To edit an existing user

Click Manage Users in the slide out menu.

Click the surname of the user you wish to edit.

Make the necessary changes in the pop-up form.

Click the Save button at the bottom of the pop-up form.

5. Assign Roles to Users

Roles are used within Cintra Cloud to grant users access to functionality.

Portal User gives access the archive of payroll reports.

User Admin allows a user to create and edit other users.

To assign a role to a user:

Click the Portal User or User Admin button.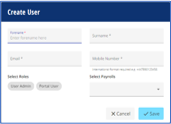 When the button is coloured blue, the user has been assigned the role.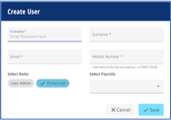 To remove a role from a user:

Click a blue button so that it turns grey.

6. Assign Permissions to View Payroll Reports

In order to use the archive of payroll reports, users must be given both
The Portal User role.

Access to individual payrolls.

When a user has access to a payroll, the user can see all reports for that payroll.
When a report contains information from multiple payrolls, then users must have access to all of those payrolls in order to see the report.
To assign payroll access to a user

Click to drop down the list of available payrolls.

Click the desired payroll. When a payroll is displayed as a blue button it is assigned to the user.


To remove a payroll from a user

Click the blue button

Organisations

User administrators create and edit users in the context of an Organisation.
Organisation context is selected either:
During the login process


From the horizontal navigation bar


Note: When users require access to multiple organisations, they must be created in each.