Importing Employees Has Become a Lot Easier Through Cintra Cloud
Using a single template, you can now setup employees in your Cintra Cloud environment quickly and easily.

We have built in all the functionality you need, lost your template? Don't worry, click on the 'Download Template' link to download a new template.

Once you have completed your template, upload either by dragging and dropping your xlsx spreadsheet into the upload box, or browse your computer for your employee spreadsheet. Your data will then be validated by Cintra Cloud. If there are any errors, we will display the errors on the screen and also point out the row number and employee affected enabling you to quickly locate the invalid data in your spreadsheet.

Now you have resolved all data issues, click on the 'Complete Import' button and your employees will be set up in your payroll.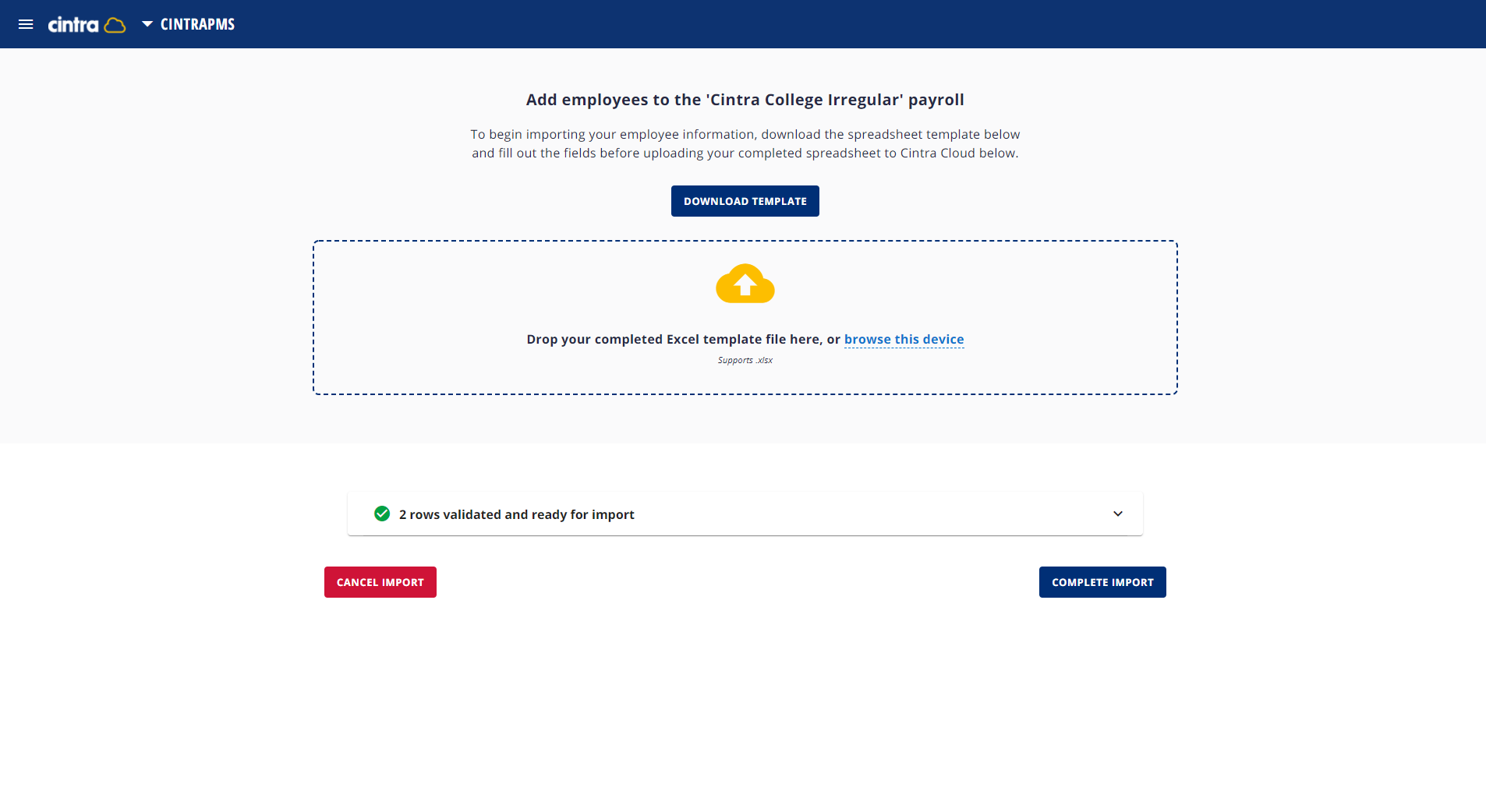 Related Articles

Personal Details in Cintra Cloud

Cintra realises that there are occasions where employee data needs to be updated in your payroll system; whether this information is not available when setting up the employee, entered incorrectly or an employee's circumstances has changed etc. To ...

Cintra Cloud: Payslip Notification

The following improvement has been made in Cintra Cloud: Payslip notifications A switch in Cintra Cloud turns the notifications on and then the emails are automatically sent to Self-Service employees whenever payslips are published. To switch the ...

New Look Cintra Cloud Employer and Payroll Pages

Our Cintra Cloud landing page has a new look, quickly and easily gain access to your employer and payroll statistics, report packs and payrolls. New Cintra Cloud Landing Page Payroll Statistics Available: Number of employees (Total at Employer and ...

Cintra Cloud: Salary & Allowances

The following improvement has been made in Cintra Cloud: Salary & Allowances A salary and allowance variance pill has been added allowing users to identify current vs previous period changes. Release Announcement Date: 05 July 2022

Cintra Cloud: Messaging

​​The following improvement has been made in Cintra Cloud: Messaging The following improvements have been made: Cleaner inbox. Message threads grouped by date and recipient. Read by me indicator. Read by you indicator. Release Announcement Date: 05 ...