Personal Details in Cintra Cloud
Cintra realises that there are occasions where employee data needs to be updated in your payroll system; whether this information is not available when setting up the employee, entered incorrectly or an employee's circumstances has changed etc.

To make this process quick and easy, we have introduced the Personal Details feature within Cintra Cloud, which enables Cintra Cloud payroll users to edit employee data. We have worked hard to ensure that your data is standardised (through the use of lookups) and is validated at the point of entry, so that all data saved to your Cintra Cloud system is correct and you have no invalid data in your payroll system.

If you would like to find out more, visit our
How Do I Edit Employee Details in Cintra Cloud?
help page.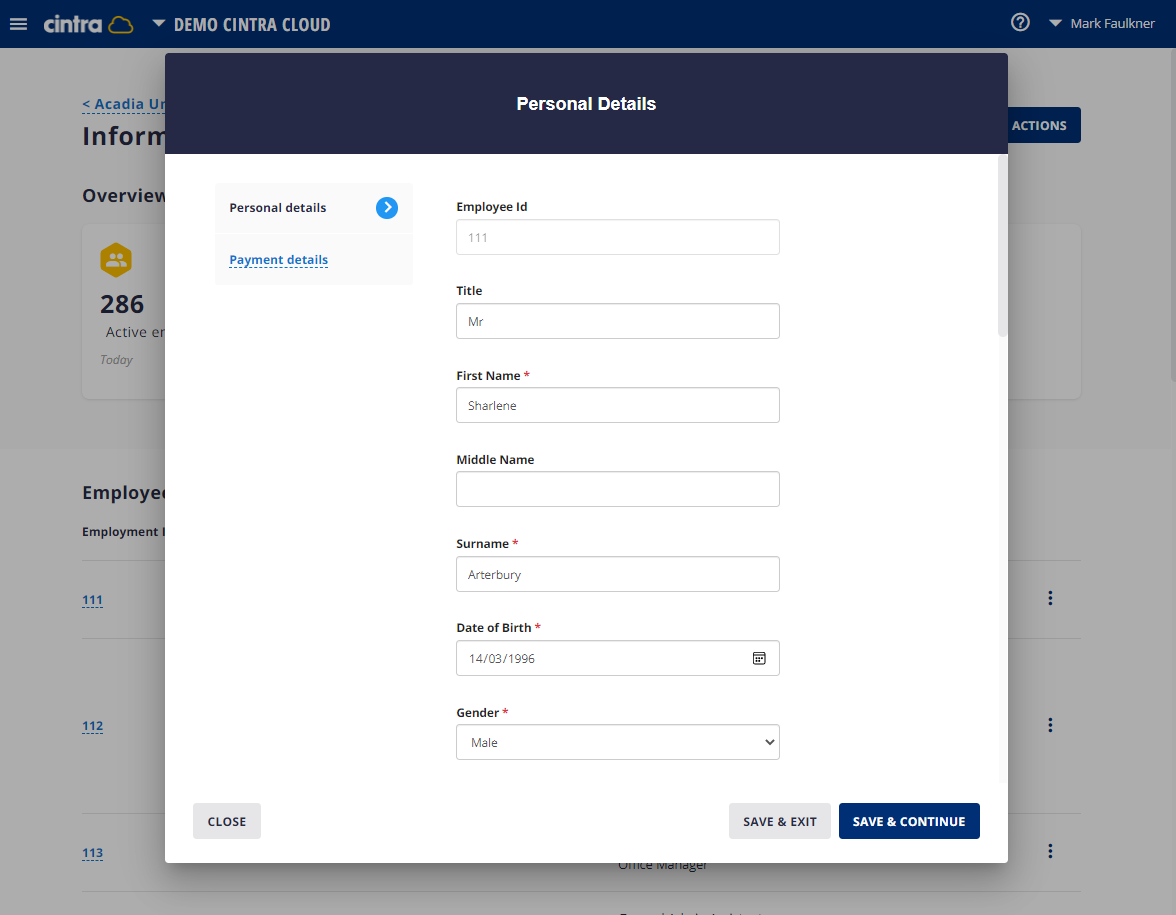 We are aware auditing of data is important. With this in mind, all changes (insert / update and delete) are captured in an audit log. Cintra logs the type of change (insert/update/delete), when the change is made (date/time), the user who makes the change, and the before and after values.

Related Articles

How Do I Edit Employee Details in Cintra Cloud?

You can view and update employee details from your Payroll homepage. I need to add Sharlene Aterbury's middle name to her employee details via the Information Technology 1 payroll. 1. Login to Cintra Cloud Open a browser and navigate ...

Cintra Cloud Frequently Asked Questions (FAQ)

What is Cintra Cloud? Our brand new cloud-based portal makes outsourcing your payroll with us easier than ever. It has been designed to increase efficiency and reduce the time you spend on administrative tasks across your business, as well as ...

How Do I Manage Users within Cintra Cloud?

1. Login to Cintra Cloud To manage users, login to Cintra Cloud as usual. Open a browser and navigate to https:\\cintra.cloud. Sign-in with your email address and password. Enter the code sent to your mobile phone. Note: Only users with the User ...

How Do I Create New Records within Cintra iQ?

Note: These wizards are customisable to suit your need. Contact Cintra's Support team for more information. You can create a new record in any folder, using the New Record Wizard, by the following methods: Click the button on the Toolbar. Right ...

How Do I Enter Bank Details?

Using the Bank Details form within Cintra iQ, you can enter UK and/or International payment details for the employee. To enter bank details Navigate to the Banking Details form. Go to Cintra iQ: Employment Records> Forms> Banking Details In the ...